*Sorry, this series is sold out.
Due to my current backlog, I am only accepting orders for full house customs.
C.T. Brian
Custom .45 Commander Review
My desire for a C.T. Brian custom pistol began the day I received my Jan/Feb '97 issue of American Handgunner. Tim's customization of a Colt Commander was the cover story. Of course the review was accompanied by dazzling photos that only Ichiro Nagata is capable of. That beautiful Colt caught my eye like no other custom 1911 had, and I mentally filed Tim's name as the one I would choose to build me a true masterpiece someday, an heirloom if you will. After years of waiting, I finally decided it was time for my own Brian Custom... and now its here!
About Tim-
Worth noting here is that Tim is a perfectionist when it comes to the pistols he builds. There is no part of this gun that has not been modified by his hands and files. Every pistol that leaves his bench is of "best grade" quality. Tim only builds around a dozen or so 'full house' pistols per year – when you learn that approximately 80 hours of his time was put into building my "masterpiece", you begin to understand the low production number. His goal is to build only the very best, and this he does. His attention to the smallest of details is one of his trademarks. The best pistol that Tim has built is the one in front of him right now – constantly striving to better his skills and knowledge resulted in this beautiful pistol reviewed here. Comparing my pistol to the AH Colt he built in 1996 shows the improvements time has brought to his craftmanship... and his work was Master grade quality then. I admit to be "slightly" biased, but I consider Tim to be the premier 1911 smith. His craftsmanship combined with his keen eye for details blurs the line that separates art from pistolsmithing. Tim has raised the bar in the custom 1911 field to a higher plateau.
Parts Used-
Frame/Slide - Les Baer oversize
Barrel – Storm Lake Machine
Barrel bushing - National Match
Sights - BoMar rear, Brian front
Ejector - EGW oversized
Extractor - Wilson Bulletproof
Beavertail - Brown memory groove
Thumb safety - Brown wide/competition
Trigger - Videki
Hammer - Infinity
Sear - EGW Competition
Disconnector - Infinity Tri-Glide
Mainspring Housing - Colt arched
Slide stop - EGW oversized
Magazine catch - Brown extended
Guide rod - standard Colt
Recoils springs - Wolff variable rate
Grips- Hogue cocobolo

Barrel and slide to frame fitting-
Building a best grade pistol requires not only the skills of a master pistolsmith, but also the use of only the best parts. Tim's preferred platform to build on is a Baer frame and slide with oversized rails. Quoting from Tim's catalog on his procedure for fitting these two components together: By a combination of careful machining and hand fitting, a very nice and tight slide/frame relationship is accomplished. He also includes a note about maintaining reliability: As with any close toleranced slide/frame fit, cleanliness is important for reliability to be maintained. I can tell you there is no play in the fit... its tight but not to tight.
A Storm Lake Machine barrel mated with an National Match bushing is Tim's choice this time when building my Commander length 45. He precisely fitted both barrel and bushing. No slop or play is detectable. I like the fact that Tim fit the bushing tight enough that a wrench is required to remove it, but the supplied plastic wrench works just fine, which is important to me as my "finesse" with most anything mechanical leaves a lot to be desired - the blueing will last much longer since I won't have to resort to a steel bushing wrench. Judging by the targets shown below, Tim knows how to correctly fit a barrel to maximize accuracy without compromising reliability... as he told me, you get the hang of it after fitting your first thousand.
The Trigger-
Tim tuned the trigger to break at a very crisp 4.25 lbs. The only way I can describe it is to state thats it feels similiar to that of a finely tuned DA revolver trigger. Once the trigger pull begins you can detect a slight "rolling" feel in the take-up, a touch I've not felt on a 1911 before. Its very subtle and can really only be felt while slowwwwly working the trigger. Another CT touch. Every Master 'smith adds a few modifications to their work to set their weapons apart from others. These mods can be purely cosmetic or combine functionality and cosmetics. Either way it sets their work apart and gives their customers a little something special while adding to the pride of ownership. Like the French cut border on the slide, Tim's modification to the Videcki trigger is purely cosmetic. But its tastefully done and adds to the overall beauty and uniqueness that make up a Brian custom. Notice in the picture the additional 4 smaller lightning holes Tim has surrounded the Videcki's standard ones with. To further enhance their appearance each hole was slightly beveled... giving the industry standard aluminum trigger an eye catching polished look, - a nice touch indeed!
Slide details-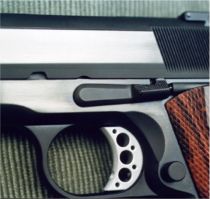 The slide catches your full attention when you first examine this pistol. This is the most visible touch that seperates a CT Brian pistol from all others. The flats have been hand polished to a mirror shine. The bottom portion of the slide has been beveled inward and matte finished. The beveling is a most distinctive touch to almost the same width as the frame and...
Tim describes this much better than me, so...
Notice there is a 'breakaway angle' running alongside the bottom. This is a precisely machined cut that brings the bottom edge of your slide very close to the side of the frame. Now, instead of the side of the frame 'stepping out' to the bottom edge of the slide, the slide now angles in to the frame. This leads to a: less printing, and b: a better 'flow'. I know I use the word 'flow' a lot. You'll understand the more you study your custom. Anyway, that bottom 'breakaway angle' of the side will be bead blasted, just like the 'non flats' of the slide. The remaining flat (which if you'll notice, runs out parallel with the uppermost point of the radius cut at the lower end of the slide), will be polished. The final effect is that, when viewed from the side, the upper radius of the slide shows the same amount of 'matte' finish as does the 'breakaway angle'. The 'strip' between is highly polished, as are the flats of the frame. I'm sure I'm not explaining this well enough for you to visualize it properly, but I've been doing this on my full house customs for a year or so, and the feedback from my customers has all been positive.

Tim's slide treatment is defintely different from what anyone else is doing or has done. In addition to reducing printing, it is an eye catching addition that lets you know you're handling something special. I apologize to Tim for the poor quality of my photography, believe me, it does not do justice to his artistic talents.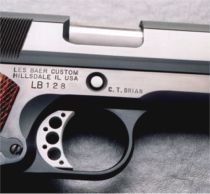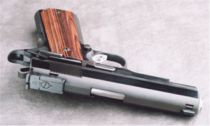 A well executed yet subtle French border separates the top radius of the slide from the flats. The width Tim cuts this at requires a bit of close examination to even notice its presence... a cosmetic modification that enhances the look of the pistol without overwhelming the "whole of the pistol" look. A Masters touch that adds much pride to ownership of this pistol. The slide's radius is matte finished. Moving to the top of the slide leads to another well executed cosmetic, yet functional touch. Tim has flattened and finely serrated the top at 40LPI for an attractive non glare sight picture. All sharp edges were broken very tastefully by old fashioned elbow grease and files. I much prefer this look to some of the radical "melt-downs" that some 'smiths and gunmakers offer today. The only sharp edges to be found are the serrations on the front sight. Tim has given my pistol that bar of soap feel without compromising the 1911s sexy lines!
Take a look at the fit of the BoMar sight to the slide. Not one sliver of daylight showing. Tim carefully removed metal from the slide to enable the lowest possible mounting of the BoMar sight, so low in fact that a small amount of the hammer had to be removed to clear the rear of the sight blade! To complete the detailing of the slide Tim serrated the rear to match those of the BoMar. Notice Tim does not serrate the extractor. Whether or not to serrate the extractor is debatable among 'smiths. Tim feels that since the extractor is a replaceable part, it should be left un-serrated. I agree.
There are a few other of Tim's detailing that need mentioning. Precise fitting of the grips. The nicely executed dehorning on the front of the slide. Its very subtle and easy to overlook, but its there. The ejection port was lowered and flaired to ensure complete reliability. All cuts are perfectly square. Even the recoil spring plug and cocking serrations did not escape Tim's eyes nor files. Details. Details. Details.
Frame details-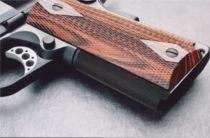 Featuring hand polished flats and matte finished rounds, the frame was given the full attention of Tim and his files. All edges were once again tastefully broken. Tim perfectly executed 30lpi checkering on the front strap and main spring housing.
Father time combined with hand checkerer's aches and pains have changed the way Tim now accomplishes his checkering. He uses a mixture of homemade tools and old fashioned hand files now where once he did 100% of his checkering by hand. The results have not changed. Not a flaw is to be found. The cuts are straight and deep and then the diamonds are lightly hand broken to provide the surest of grips without being too sharp. Perfect for a carry gun.
Take a look at the way Tim blends his checkering into the handsome grips. One detail you cannot see is how Tim has carefully blended the diamonds around the magazine well. Tim charges a premium price for his checkering... once you find out the time consuming process he uses you'll understand why – and once you have a CT Brian pistol in your hand, you'll know it was money well spent!
Cameron Hopkins best described Tim's treatment of the Colt mainspring housing.
The mainspring housing is a work of art unto itself. Tim starts with an arched unit and blends it to the frame by filing it to match. The result is a "sunken" mainspring that literally feels like the gun was left in the sun to long and it melted into the frame. True perfection!

The beavertail was hand filed and fitted to give the highest grip possible. Tim fits this safety so that only the slightest amount of pressure is needed to depress it. A feature truly appreciated by me as it insures that even a poorly aquired grip by my hand guarantees the gun will fire.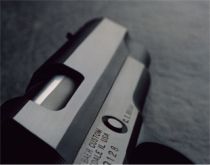 The thumb safety was given similar treatment. Tim fitted the oversized safety to the frame and then filed and recontoured it to give it the most comfortable fit. Thanks to careful filing and polishing, there is no "bite" to the thumb. On/off engagement is positive without being too tight.
The slide stop was not overlooked. Its edges were subtly rounded. The modification that Tim made to the slide stops protruding pin has become one of his signature "marks". The pin was flattened and recessed to fit into its now chamfered frame hole. While the likelehood of the slide stop being accidently engaged during a gunfight is very slight, it is something that Tim saw happen just one time in one of the many advanced training courses he has participated in. That one time was enough, and being the sort of man unwilling to tempt Mr. Murphy more than necessary, Tim takes care of this in a very eye pleasing way.
How it shoots-

Tim included 3 targets shot from a Ransom Rest at 25yds (normally Tim shoots at 50yds but those Rocky Mountain cross-winds did not cooperate on range day). Two ammo types were shot, Tim's 200gr LSWC shop load along with 230gr Hydra Shoks. SOP for Tim is to include the average groups rather than the best... I make it a practice never to send a customer the 'smallest group of the day'. I found that to be refreshing and indictive of Tim's true character- completely honest.
The "worst" 5 shot group using Tim's ammo measured out at 1-1/4", with most of the groups averaging 1". The Federal premium defensive ammo really shined in my pistol. The largest group shot was 1". On the whole, the HS typical group hovered around 3/4". No question about it, the man builds a shooter!
Finishing touches-
A lot of old world craftsmanship shows in Tim's pistols. Though strictly cosmetic, the grip screws are "timed", that is, the slots are evenly vertical aligned. All pins are fitted flush with the frame. All lines are straightened and tooling marks removed.
This pistol was given Tim's "Master Grade Blue" treatment. A time consuming process where only hand polishing is used. You know its worth the extra money when your pistol has, to quote Tim, A deep, dark and rich blue that never ceases to amaze. The finish is indeed beautiful, the flats having a true, almost black mirror-like appearance that contrast nicely with the matte finished non-flat surfaces.
Summation-
Working together with Tim on this project was a pleasure. We communicated frequently via email, by phone when important details needed hashing out. Though we've never met, a friendship was forged, one that goes further than a business relationship. That means a lot to me.
Here are a few quotes from Tim that tell you a lot about the man, his work ethic and his thoughts about what his customers will receive in a CT Custom.
Billy, I've got to say that as much as you've complimented my work, you also deserve a great big pat on the back. You've been excellent to work with.
A true gentleman who appreciates his customers.
On any custom I make, attention to detail is of the utmost importance. Each and every part is individually modified until it achieves absolute perfection, both aesthetically and ergonomically... The difference in my work comes from making sure all of the parts and pieces that make up a pistol 'flow' together.
Flow is a word you'll hear often from Tim. Its hard to explain this with words... to hold a CT pistol is to understand. What makes a Brian pistol unique are the small, almost hidden details of his work that you discover almost every time you examine his work.
You see, I believe in pride of ownership. The pride that comes from knowing you own the very best...
Thanks for your happiness and faith in my work. That, my friend, is my goal. To be and offer only the best.
Meticulous attention to details coupled with his skills, knowledge and a drive to make each pistol better than his last, have positioned Tim at the top of his profession. Not one to rest on his laurels, Tim will be introducing a limited edition pistol aimed at those who choose a compact 1911 for concealed carry. This pistol features several innovative designs to the 1911 style pistol which enhance concealability. Look for this pistol to be reviewed in depth in an upcoming 'GUNS' issue. The desire to be the best and offer only the best still burns brighty inside Tim!
If you want the best 1911 that can be had... you owe it to yourself to get in touch with C.T. Brian. I'm glad I finally did!
---